*Musicians*  *Singers*
  *Poets* *Fashion Designers*
 *Authors*
 * Artist Representation*
 (908)868-1322 or email: tmoentertainment@gmail.com
   TMO Entertainment
Books, represents, and produces various events for theater,
small and large venues, concerts, festivals, museums, colleges and churches.
We will assist in the planning
of your entertainment package with top notch performance artists:
i.e. dancers, fashion models, and an array of
notable musical artists that range in genre
from Gospel, to Jazz, Funk Rock, R&B, Latin Jazz, Poetry, as well as combine the artistry
into an extravagant production, and more.
We work with you to solidify a package that will fit your budget.
 We guarantee complete satisfaction with prompt follow-up
through every step of the promotion and/or production.
 Make TMO Entertainment your one stop
entertainment agency
for your next event! 
Looking forward to diligently working with you!
   (908)868-1322 or email: tmoentertainment@gmail.com
TMO ENTERTAINMENT
Presents
MAIN ATTRACTIONS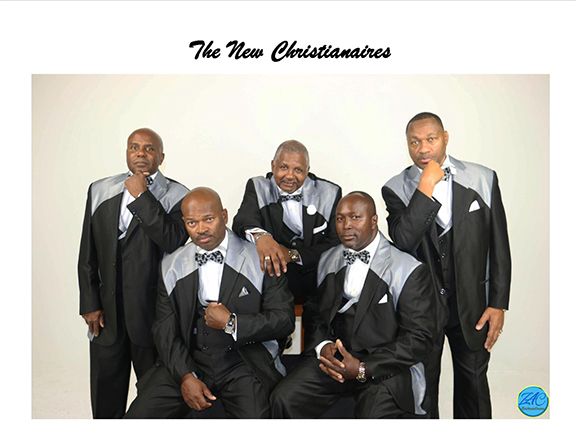 The New Christianaires  ->
 TMO Entertainment Presents Stella Nominee Award, "The New Christianaires".
Announce their new CD called: "Remember Me"
TMO ENTERTAINMENT
Presents
ARTISTS OF THE MONTH

New Single, "December Goodbye" 
Avery Sharpe ->
 Sharpe, Avery: Sharpe Meets Tharpe – A Tribute to Sister Rosetta Tharpe

Another virtuosic bass performance has made its way into my CD player. Avery Sharpe is a legendary name in jazz music and has played with the likes of McCoy Tyner and Wynton Marsalis. Rosetta Tharpe is considered to be the Godmother of rock and roll and was hugely popular in the '30s and '40s. Her mixture of gospel infused rock and roll paved the way for many recording artists and helped bridge the gap between secular music and the gospel.

On Sharpe Meets Tharpe the band fires on all cylinders giving new life and new arrangements to classics of the era. Sharpe's bass playing is phenomenal throughout, lacing every track with his warm tones and solo expertise. The lead vocals of Meli'sa Morgan are also very good as her voice is warm and soulful, adding a gospel and spiritual element to most of these tracks. The whole thing is backed by the New England Gospel Choir making this disc quite a joyous and positive listening experience. Songs like the gospel R&B infused "This Train", highlighted with lovely solo piano, the joyous "Shout Sister Shout" and the fine tribute to Tharpe "Miss Nubin" with its mind bending bass solo, showcases the exquisite musicianship you will find all over this disc. Really, all bass players should at least hear the work of Sharpe. The last track is an extended version of "This Train" that gives the band an opportunity to really explore their musical surroundings. Piano, bass and the lead vocals and choir all play a huge role here.

So there you have it. Another superbly crafted jazz album that will also appeal to Gospel and R&B fans. Avery Sharpe is a bass master and proves it on every track. Sharpe Meets Tharpe is a JKNM Records release.

Track Listing:
1. This Train (5:34)
2. Shout Sister Shout (5:15)
3. Miss Nubin (6:28)
4. Up Above My Head (5:02)
5. Down By the Riverside (4:56)
6. Spiritual Dilemma (5:42)
7. I Want a Tall Skinny Papa (3:55)
8. A City Called Heaven (5:42)
9. Lonesome Road (5:28)
10. This Train (Extended Play) (9:24)
 .
Gospel Artist, Freedom Imani 
->
*** 
 ...call TMO Entertainment for more information!
 (908)868-1322
TMO ENTERTAINMENT